With the steady growth of the Indian start-up ecosystem, an increasing number of women are pursuing their entrepreneurial dream and succeeding in their commercial ventures. Inspiring other Indian women who are still tied to the conventional homemaker role are being empowered to think for themselves.
According to the National Sample Survey, women entrepreneurs in India account for only 14% of all Indian enterprises. Most of the businesses are self-funded and operate on a small scale. According to a survey, approximately 126 million women worldwide run their own businesses, whereas Indian women number around 8 million; a perplexing assertion is given that India is the world's second-most populous country.
Female entrepreneurs and women in business are increasing in number. When they first began out, over 58% of female entrepreneurs were between the age of 20 and 30. We have compiled a list of five inspiring women entrepreneurs in India for this women's day.
Vineeta Singh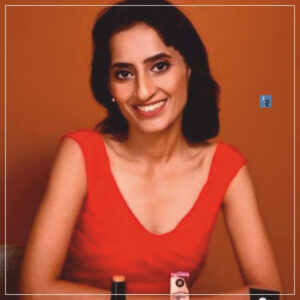 Being the founder and CEO of Sugar Cosmetics, Vineeta also serves as a judge on the reality show Shark Tank India.
Despite a huge drop in sales in 2019, Sugar Cosmetics earned ₹104 crores in 2020. Vineeta Singh reflects a strong global presence, with 15 percent of her brand's revenues coming from international markets.
She finished her studies at the Delhi Public School, R.K. Puram, in Delhi. Vineeta earned her bachelor's degree in Electrical Engineering from the Indian Institute of Technology Madras (IIT Madras) in 2005. She was enrolled in IIM-Ahmedabad to pursue her MBA after graduating from IIM-A in 2007.
Namita Thapar
Everyone can learn from Namita Thapar's inspiring life journey. She never lost courage and achieved everything she set out to do. She had aspired to be a businesswoman and has worked hard to achieve her aim.
Thapar was born on March 21, 1977, in Pune, Maharashtra. Her parents uplifted her to pursue her dreams and provided her with the greatest education possible.
Namita joined Emcure as CFO after she had worked for six years at Guidant Corporation in the United States. She later expanded her responsibilities to confine the Indian market, and she is now the Executive Director of Emcure Pharmaceuticals.
She is an influential speaker at prestigious forums such as Harvard Business School, the Indian Institute of Management Ahmedabad (IIM-A), the ET Women's Conference, FICCI, and other recognised global platforms. She also starred on Sony Entertainment's Shar Tank India Season one  reality television show.
Emcure Pharmaceuticals, which is based in Pune, Maharashtra, is an Indian multinational pharmaceutical firm. Emcure's product line includes tablets, capsules, injectables, etc.
Although the company is based in Pune, Maharashtra, it has grown its pursuit globally. It has a 6,000-million-rupees ($ 750 million) turnover. It is present in more than 70 countries and employs over 10,000 employees.
Falguni Nayar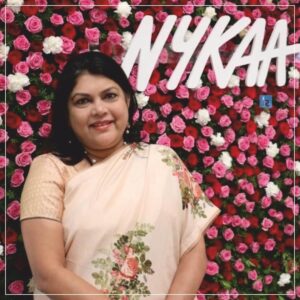 Falguni Nayar is an Indian billionaire and the founder and CEO of Nykaa. Nykaa is a cosmetics and lifestyle e-commerce retail brand in India. Falguni Nayar is one of the only two self-made female billionaires in India. She became the wealthiest female Indian billionaire shortly after Nykaa went public, with a net worth of $6.5 billion and a place among India's top 20 richest people, making a permanent place for herself in the Indian billionaire's community.
Nayar was born and brought up in Mumbai, Maharashtra, in a Gujarati family. She graduated with a bachelor's degree in commerce and economics from Sydenham College, Mumbai. She also holds a master's degree in Management from the Indian Institute of Management Ahmedabad.
Nayar became a part of the Kotak Mahindra Group in 1993 and worked there for 19 long years. She held the position of Managing Director at the Kotak Mahindra Group from 2005 and left the company in 2012 to start her own entrepreneurial venture.
At the age of 50, she founded Nykaa with $2 million of her own money in 2012. As of 2021, Nykaa was evaluated at $2.3 billion, raising Nayar's fortune to $1.1 billion. In November 2021, Nykaa was valued at $13 billion, making Nayar India's richest self-made woman.
Ghazal Alagh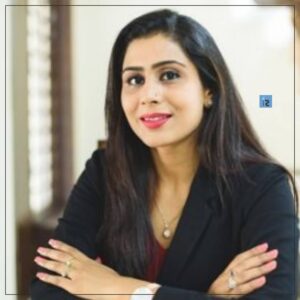 Ghazal Alagh was born in Gurgaon, Haryana, on September 2, 1988. She is the co-founder of MamaEarth. She launched her business venture—MamaEarth—in 2016 with her husband, Varun Alagh. MamaEarth is the first Indian cosmetics company to avoid using harmful chemicals or materials in its products.
In 2008, Ghazal Alagh worked for NIIT Ltd. for two years as a corporate trainer. Diet expert.in was Ghazal's first business venture she founded. Her first attempt failed, and she went on to become an artist on 'Being Artsy.'
In 2016, MamaEarth was launched as a direct-to-consumer personal care brand. In under 4-5 years, it has become one of India's fastest-growing FMCG brands.
Ghazal Alagh is estimated to have a net worth of $17 million. Her annual revenue from MamaEarth is expected to be about ₹ 35 crores, according to sources.
Vandana Luthra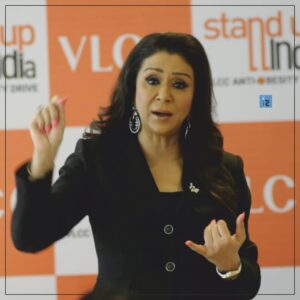 Vandana Luthra (born July 12, 1959) is an Indian businesswoman and the creator of VLCC Health Care Ltd., a beauty and wellness conglomerate with operations throughout Asia, the Gulf Cooperation Council, and Africa. She is also the head of the Beauty & Wellness Sector Skill Council (B&WSSC), which offers training through the Pradhan Mantri Kaushal Vikas Yojana.
In 2014, she was named the inaugural chair of the Beauty and Wellness Sector Skill Council. This is funded by the Indian government and provides beauty industry skills training.
Vandana Luthra was born in New Delhi to her father, a mechanical engineer, while her mother was an ayurvedic physician who ran a philanthropic organisation. This inspired her to make a difference in people's lives, so she moved to Europe after graduating from the Polytechnic for Women in New Delhi to get beauty, food and nutrition, and skincare skills.
VLCC was founded by Luthra in 1989 in Safdarjung Development Area, New Delhi, as a beauty and wellness service facility that specialised in food modification and exercise regimen-based weight management programmes. VLCC is well-known in both national and international markets.
Luthra is the Vice Chairperson of Khushii, a non-profit organisation with programmes such as telemedicine facilities, a remedial school with a midday meal programme for 3,000 children, and a vocational training centre. She is a member of the Morarji Desai National Institute of Yoga and the Pradhan Mantri Kaushal Vikas Yojana Steering Committee and Sub-Committee founded by India's Ministry of Skill Development and Entrepreneurship.
She is a patron of the Amar Jyoti Charitable Trust, which pioneered the notion of educating disabled and non-disabled students in equal numbers from kindergarten to eighth grade. In its two schools, the Trust today has over 800 students.
The Emerging Business Face in Indian Market
In the current business paradigm, women have been subsequently changing gears and making a difference in the traditional code of conduct of business. Making their presence felt in every sector, women today have become the new face behind the current business scenario in India. From becoming self-made billionaires to redefining entrepreneurial ventures, Women have become India's emerging face of business and are effectively changing the way business should be done in this modern era.